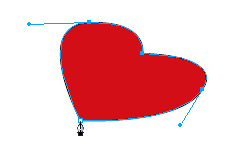 What is a vector file?
Unlike image files like JPG, PNG, GIF, TIF etc., which consist of millions of pixels, vector files consist of waypoints that are connected with each other (so called "vectors", see illustration on top). Vector files are usually created using programs like Adobe Illustrator™, Corel Draw™ or similar that are used in the professional graphic indutry and are quite complex. The classic file name extensions are .ai (Abode Illustrator) and .cdr (Corel Draw).
The file format
After having created your label with one of the above mentioned programs save or export your artwork as a PDF or EPS file. If you are not sure how to save / export a PDF or EPS file, you may also uload an .ai- or .cdr file directly.
The artwork dimensions in the file
Since a vector file is consisting of waypoints that are connected with each other, it is scalable in any direction without changes to the quality. Therefore, the artwork dimensions don't need to be exactly the same as the label's width and height you are planning, whereas it is very important that it has the correct aspect ratio (width-to-height ratio).
An example: If you are planning a width of 50 mm and a height of 20 mm for your label, you may create your artwork at 50 x 20 mm, but also at 100 x 40 or 25 x 10 mm. Important to keep the correct aspect ratio (in this case 50:20 = 5:2).
The fonts in the file: please convert them to paths
Since our machinery cannot know all fonts out there, we kindly ask you to convert all fonts to paths. In the graphic programs mentioned before, this conversion can be done with just some mouse clicks, e.g. in Illustrator the commend is Ctrl/Cmd + Shift + o. If you are not sure how to convert fonts in paths, please seek advice from the help/documentation of your software.
Too complicated? Have it done.
If all that seems to be too complicated, we can also do the vectorization for you from an image file like JPG, GIF, PNG, TIF etc.. However, if you upload an image file, please make sure that the image size allows us to recognize all details of the image. It should be at least 1000 px. wide.